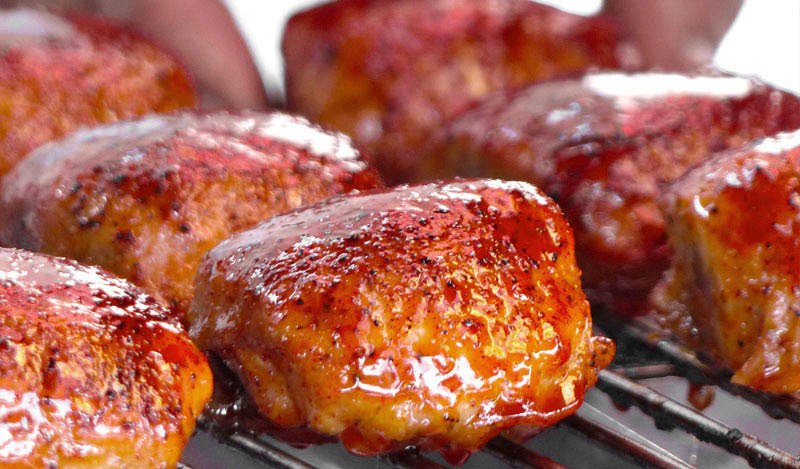 BBQ Chicken Thighs
Nothing goes better with a picnic in the park than BBQ chicken. These glazed BBQ chicken thighs add pure pleasure to a lazy afternoon outing. Here's a quick tip: Be sure you shake a little Dizzy Dust rub under the skin of each chicken piece.
Ingredients
8-10

thighs

3

ounces

Dizzy Pig Dizzy Dust

5

ounces

BBQ Bob's Hav'N a BBQ Sauce

Smoke wood chips

(hickory, pecan or any fruit wood is fine)

BBQ Guru Temperature control system
Instructions
Use a direct set-up on your smoker (place directly over coals).

Remove any heavy fat and excess skin from the chicken thighs.

Load in your charcoal and light your smoker and set your  BBQ Guru "Pit" temperature to 255°F.

Allow the smoker to come up to temperature. While your smoker is coming up to temperature, shake on the Dizzy Pig Dizzy Dust on both sides of the chicken.

Once your smoker reaches your set temperature, place approx. one handful of smoke wood into the coals and wait 10 minutes before placing the meat on the smoker. This gives the smoke wood time to mellow and you will not get any harsh smoke flavors on your food.

Cook the chicken skin side up for approx. 45 minutes to 1 hour or until the internal temp reaches 160°F. Flip the chicken over and continue cooking.

Cook the chicken for approximately 40-50 more minutes or until the internal temperature reaches 185°F.

Brush all of the chicken with the BBQ Bob's Hav'N a BBQ Sauce while still on the rack and continue cooking for 5-10 more minutes until the sauce forms a nice glaze. Serve chicken.