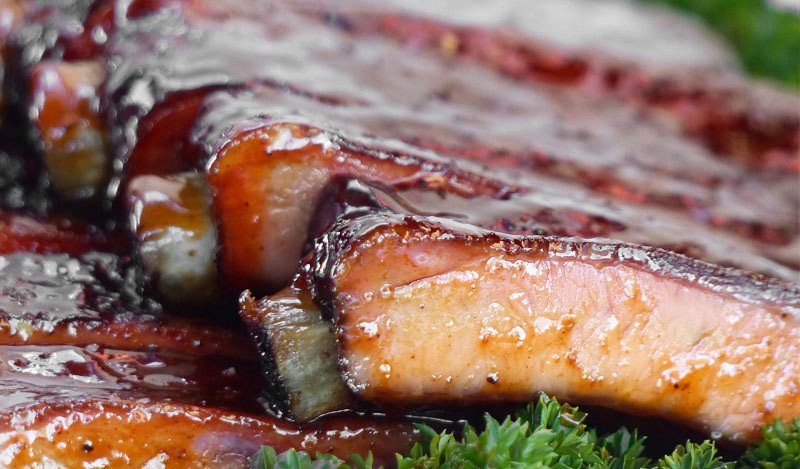 Sweet and Spicy Ribs
To this day, it's still polite to eat BBQ ribs with your fingers. Perhaps that's part of its enduring Southern charm? Recipe calls for a rack of St. Louis style ribs. You'll need a sturdy set of tongs or hot food handling gloves to transfer meat from unwrapped foil to a baking sheet. Happy eating!
Instructions
Place in smoker at 275° F (use 2 small chunks of apple or pecan wood for smoke)

While ribs are cooking lay out two 24" pieces of heavy duty aluminum foil.

After 4.5 hours the meat should be receding from the bone about ¼". Place half of the honey, brown sugar, three ½" pads of margarine and a light dusting of rub onto top sheet on foil.

Lay the ribs, meat side down onto the seasoned foil. Repeat the process on the bone side of the ribs with the rest of the ingredients.

Place ½ cup of apple juice into the foil with the ribs and cover tight with both layers of foil.

Cook for another 1.5 hours or until the ribs feel tender when inserting a toothpick into the meat. Remove from oven or smoker.

Open foil and let ribs rest for 10 min.

Carefully pick up ribs with two hands or a set of tongs and lay on a baking sheet or grill rack with the meat side up.

Remove from heat, let cool for 10 minutes and slice.