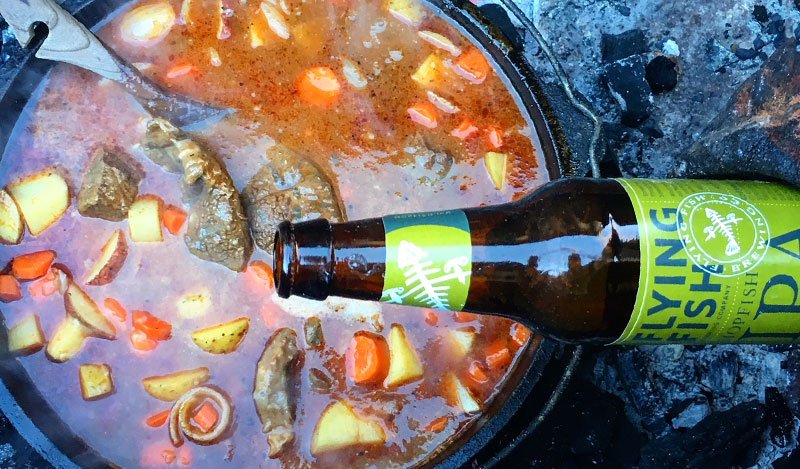 IPA Venison Stew (Dutch Oven)
This venison stew from BBQ Bob is a twist on the traditional recipe . Using venison over beef and combined with the flavors of Flying Fish Hop IPA , this stew will be a hit!
Ingredients
3 – 4

lbs

venison stew meat or steaks cut into chunks

1

12 oz

bottle of Flying Fish Hopfish IPA

1

large sweet yellow onion chopped

2

shallots

(thick cut)

4

cloves

garlic

(thick sliced)

3

cups

chopped carrots

(sliced into medallions)

2

cups

parsnips

(sliced into medallions)

Olive oil

Salt

Pepper

BBQ Bob's Hav'n a BBQ 7Bones Rub

Flour for thickening
Instructions
Get some hot coals going in your grill or in a fireproof area in the yard.

Dust venison chunks with some 7Bones Rub.

Get a hot skillet going with some olive oil and sear off the venison on all sides to get them golden brown but not cooked through, then set aside.

Pour two quarts of beef stock into the Dutch oven then add the venison, onion, shallots, and garlic. Place it into the coals and place the lid on.

Place a few hot coals on the lid of the Dutch oven as well as around the sides. (Be careful not to have too many hot coals around the Dutch oven or all of your liquid will boil out rapidly. Check on it often.

After about 2 ½ hours add the potatoes, carrots, parsnips and 2 tbs. 7Bones Rub. Cook for another hour or until the potatoes, parsnips and carrots are tender.

30 minutes after adding potatoes, etc. add 1 12oz. bottle of Hopfish IPA

Taste for salt and pepper and add now if needed.

Serve with some crusty fresh bread and enjoy.