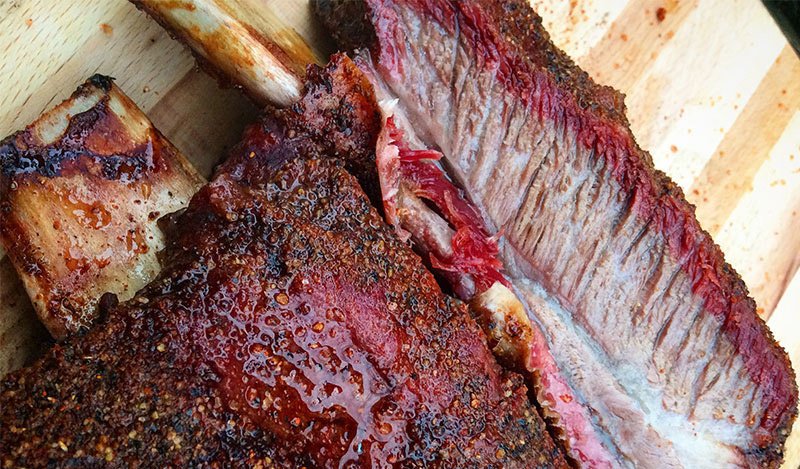 Beefy Game Day Short Ribs
Wow your guests this Super Bowl with the ultimate Beef Ribs. Slow cooked and with a perfect smoke ring, these Ribs are a touchdown for any party!
Ingredients
Beef short ribs

(By the whole rack) (Usually come in 5-6 bone sections)

2

tbsp.

vegetable oil

1

can

beef consommé

BBQ Bob's 7Bones Beef Rub

1

tsp.

kosher salt

Sriracha sauce
Instructions
Light charcoal and set your grill or smoker to 275°F. (Set up for indirect cooking)

Place two chunks of hickory wood into the coals for smoke flavor.

Remove the membrane on the bone side of the beef rib racks.

Trim any heavy fat from the face of the rib racks exposing the meat.

Rub in a little vegetable oil to each side of the ribs racks.

Slather on a tbsp. of Sriracha sauce on each rack and rub into the meat.

Lightly dust each side with kosher salt then a moderate dose of 7Bones Beef Rub.

Place them in the cooker directly on the rack but not directly over the fire.

Cook for about 3 hours (you will see the meat receding form the bone).

After 3 hours place each rack meat side down in heavy duty foil and pour 3 oz. of beef consumme over them. Wrap each rack in foil tightly and place back on the smoker for approx. 3-4 more hours or until the meat is tender.
Notes
The best way to check the ribs for tenderness is to plunge a skewer or meat thermometer probe into the meat. If there is any resistance, the ribs need to continue cooking. (An internal meat temp guide is about 195°F -200°F)